FILM FREE METALLIC WATERSLIDE DECAL PAPER
PRINTER
LASER & LASERJET
For use with all domestic or professional Laser printers.
Use printers with a manual feed slot. This slot it designed for non-copy paper.
Avoid laser printers that use solid ink. These include some models of Fuji Xerox and Canon.
Large format plotters and Samsung printers tend to be less compatible.
Under printer setting, set media type as "label paper" or "heavy glossy paper".
PRODUCT
* Decal paper (blue backing) + Metallic film (g/s/w/h) + Coating paper (white).
• Laminating machine required.
FILM-FREE
You can now print and transfer gold or silver or hologram foils using our latest Film Free Metallic Waterslide Decal Paper!
Invented by SUNNYSCOPA, INC. in 2014, Film-Free Waterslide Decal Paper, allows you to transfer your designs onto any smooth surface, with no remaining film unlike traditional decal paper. Peel away the film, and you are left with a durable and dishwasher-safe film-free finish. Whether you're a business owner looking to brand your kitchenware, or an enthusiast looking to add the perfect finishing touch to your project, film-free decal paper is the perfect solution. It is easy to use, requiring only a laser printer, glue, scissors, water and ideally an oven, to achieve professional results. For metallic, a laminator is required and an Oven or Blow Dryer.
Effortlessly reposition your decal after applying, eliminating any hassle associated with sticky paper. The position is final; once you have used a squeegee to remove water and have let it dry. Leaving you with a durable, washable finish made to last. Effortlessly personalize and brand any non-porous surface. Great for you and your business.
Cafes and restaurants use film-free decal paper to brand their kitchenware with custom designs and logos. From coffee mugs to plates and bowls, the opportunities for branding with film-free decal paper are endless. Not only does this give these businesses a professional and cohesive look, but it also helps to build brand recognition and increase customer loyalty by adding a unique touch.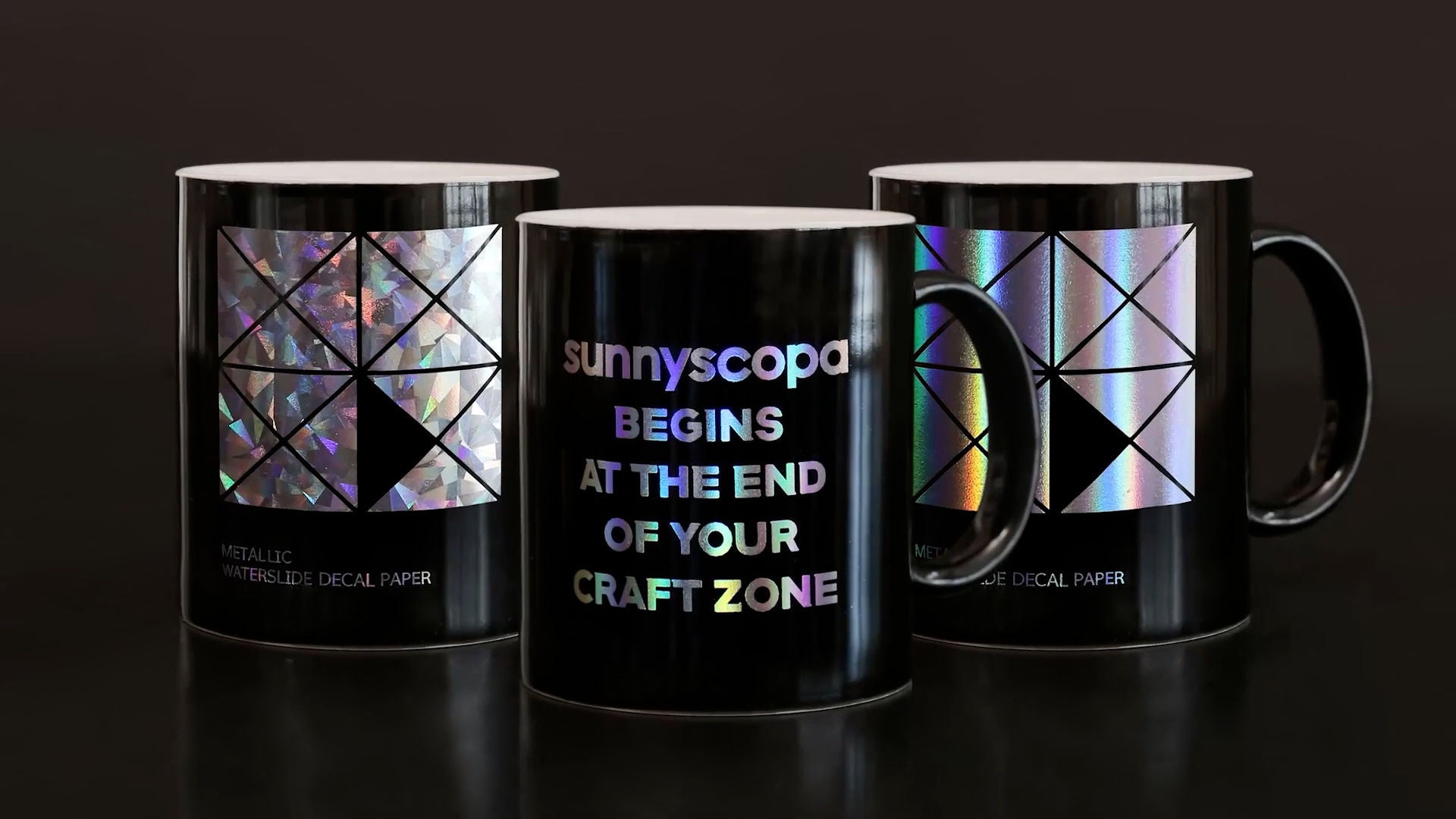 With film-free decal paper, you can transfer your designs onto these surfaces seamlessly, creating a long-lasting, high-quality finish that won't peel or fade over time. Plus, with a variety of sizes available, you can easily create designs for different types of projects.
SURFACES
Great for Kitchenware, PCB, Electric Devices, Fishing rods, Bicycle parts, Wine bottles, Mirrors, Retail.
Please use Glue W1+ (Oven Heating / Blow Dryer Requiredl)
COLOR
GOLD / SILVER / WHITE / HOLOGRAM PLAIN / HOLOGRAM PATTERN / RED / BLUE / PINK / GREEN / BRONZE / BLACK
Transfer Film is removed at the end and has no effect on the color.
(if you want to buy different colors mixed, leave a message with the amount of each color).
Film-Free (No left-over Transfer Film)
Tranditional Waterslide Decal Paper
SIZE
A4
8.3" x 11.7"
210 x 297mm
A3
11.7" x 16.5"
297 x 420mm
US LETTER
8.5" x 11"
279 x 216mm
TABLOID
11" x 17"
279.4 x 431.8mm
*For bulk orders and for paper sizes not in option, please Contact Us.
FREQUENTLY BOUGHT TOGETHER